Accepted project participants
A total of 185 people have been involved in the project so far, of whom 177 in the first project year, ie from 28 July 2003 to 30 June 2004.
Breakdown by nationality and sex of applicants – total and in the first project year:
Total: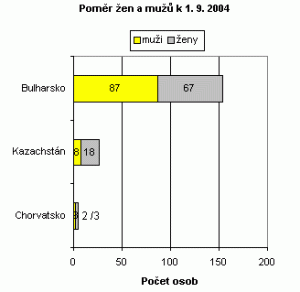 For the first project year: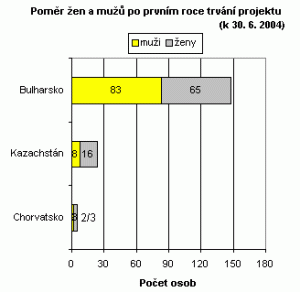 Professional composition of project participants
Regarding the professional composition of the selected participants, 47 of them work in technical professions, 19 in management, 13 in healthcare, 11 in artistic professions, ten in administration, eight in information technology, six are researchers and two lawyers. The rest is categorized as "miscellaneous".
Distribution according to the professions of the applicants – total and in the first project year:
Total: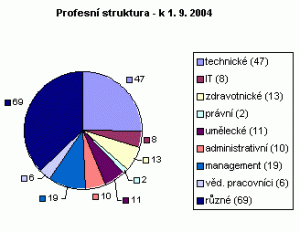 For the first project year: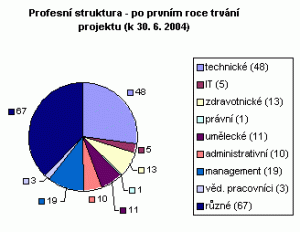 Achieved point evaluation
The highest point rating – 53 points – was achieved by one person, the other two had a profit one point lower. The same number also reached 50, 49 and 47 points. The group with a profit in the range of 31 to 41 points is most often represented in the group of selected participants, namely 120 in total and 116 persons in the first project year.
Age composition of project participants
In terms of age, the largest number of participants, ie 99, which represents 53.5 percent, is in the category over 35 years. The second most numerous group is represented by persons aged 23 to 35, of which there are 84, ie 45.4 percent.
Breakdown by age of applicants: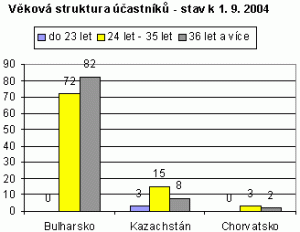 Education of project participants
It is gratifying that in the category of education for which the highest number of points in the whole table can be obtained in the evaluation, 33 percent of participants, ie 61 people, have completed a university degree. A total of 28 percent of them have completed a university master's program, five percent are graduates of bachelor's programs. In addition to these highly qualified foreign experts, nine project participants, ie five percent, have completed a doctoral program. These are mostly Bulgarian nationals.
The most numerous, 54 percent, are graduates of secondary vocational and secondary schools. 10 percent are high school graduates and 44 percent are high school graduates. 6 percent of project participants have completed higher vocational education.
Breakdown by applicants' education:
Secondary vocational education – 4
Complete secondary – 18
Complete secondary vocational – 82
Higher professional – 11
Bachelor program – 10
Master's program – 51
Doctoral program – 9
More information
Of the selected 185 participants, 93 are childless, ie more than half. The rest, ie 92 people, have a total of 139 children. 49 project participants have one child each, 39 two children each and four participants each have three children. The average number of children per project participant is 1.3 children.
Members of the family: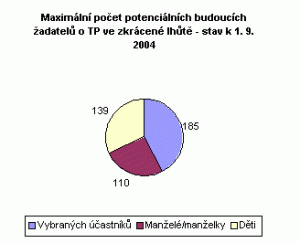 However, the fact that 52 participants (28.1 percent) are single and 22 (11.9 percent) divorced shows that the point advantage provided to participants with families is not a limiting factor for project entry for those highly qualified professionals and sufficient work experience. A total of 41 project participants (23 percent) speak Czech.
Out of a total of 185 participants in the project, three people applied for it abroad – two in Kazakhstan and one in Bulgaria. These are mostly women with a master's degree.
Three project participants were excluded from the project during the trial period because they no longer met any of the basic conditions, ie they lost their job or the necessary visa. One person managed to obtain permanent residence in the Czech Republic outside the project for humanitarian reasons.